Possible ideas for prom dresses under 100
How many times in a life you get the chance to be a part of a prom? Not too many, so you'll want to look your best for the occasion and choosing the right dress may not be as easy as it seems, especially if you are running on a tight budget. If you're all out of ideas let's borrow some from the people who are used to being in the spotlight - you won't be getting your dress from the same sources but there are places providing cheap prom dresses that look just like the ones worn at the red carpets.
Although she hasn't won this year's actress Oscar's award, Sandra Bullock was picked as best dressed actress of the 2014 Oscars awards. It may be hard to find the exact match of her dress by looking at wholesale prom dresses offers, but you just might find something similar to what she has worn on some earlier occasions.
At 2013 People's Choice Awards, Sandra had nothing more than a blue and black combination corset and a pencil skirt. Just adding stylish shoes and a bracelet made her look gorgeous. It was simple and astonishing at the same time.  You don't have to pick pink shoes if you don't want to really stand out from the rest of the crowd – black will do nicely. Picture link
At 2013 Hollywood Film Awards in Beverly Hills, Sandra Bullock came in a really simple but impressive dress. This dress really puts your body lines in front. Small lace detail over the chest, matching shoes and no jewelry required – it really can't be any easier than this. Can you imagine yourself wearing this dress at the prom? 
Another good example of simple and yet astonishing look can be found here. You may think that this dress is way too loose for prom, but the rich red dress pairs perfectly with her black clutch and black pumps. Although red and black can be a tricky color combination to pair correctly, you can look your best just by adding small details such as jewelry – possibly black necklace or some black and shiny bracelet. Be sure not to add too much, simplicity is the key here.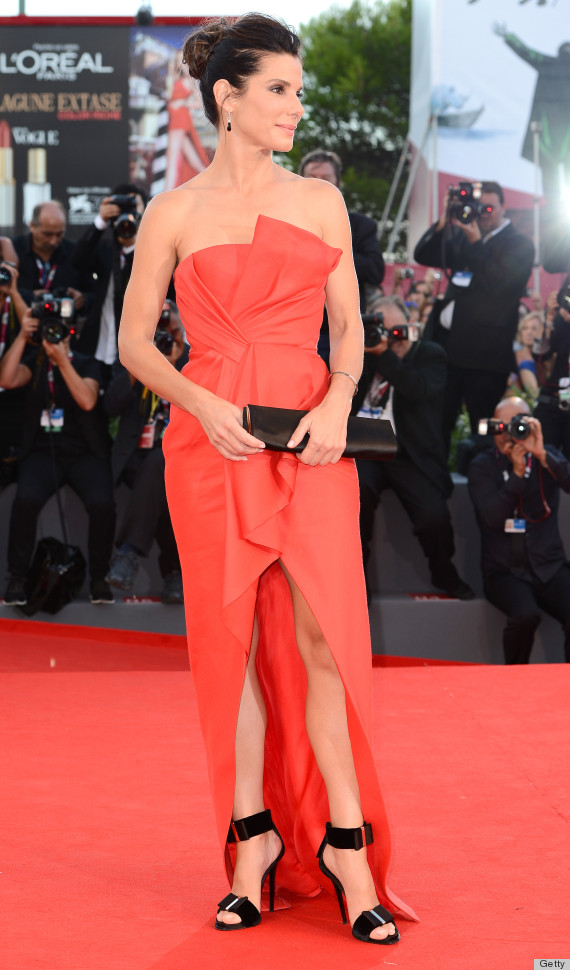 The wholesale dresses store sales may not offer the exact same models or colors but you can certainly find some nice pieces that will fit your particular taste and your budget as well. What you've seen here are just some of the combinations that might suit you and your requirements.
If you are wondering why the 2013 dress models were chosen - it's simple, those and some similar models can be found in stores and won't cost a fortune, so if you are looking for a prom dresses under 100$ the best way to find inspiration and ideas is to look at last year's hottest clothes worn across the red carpets. You will definitely find a piece after your heart. Happy shopping!